When emergencies ranging from housefires to car accidents occur, firefighters are often the first to respond. However, while each firefighter is equipped and trained to protect human lives, animals are often left behind in the chaos.
But what if firefighters could also provide essential care for animals in crisis? Thanks to new equipment provided by the Fetch Foundation and training delivered by Charleston Animal Society's Chief Veterinary Officer, Dr. Lucy Fuller, Lowcountry firefighters are now able to be a lifeline for our four-legged friends when disaster strikes.
The North Charleston Fire Department recently received a donation of Fido Bags from the Fetch Foundation, a nonprofit organization that aims to support the needs of first responders when faced with animals in need of immediate care. Fido Bags are designed to help provide first-responders with everything needed to attend to distressed and potentially injured animals.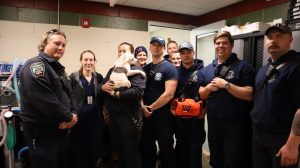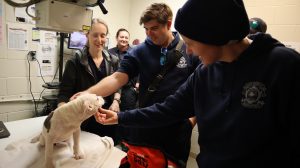 The Fido bags include a variety of medical supplies, such as oxygen masks, bandages, splints and other emergency equipment, but also a variety of pet-specific items such as leashes and water bowls. These supplies may seem commonplace, but have proven to be crucial in treating animals, especially considering that fire trucks were not previously issued animal-focused first-aid equipment.
TRAINING FOR PET EMERGENCIES
While each member of the department has been extensively trained in caring for people during emergency situations, many have never received formal training in emergency veterinary first-aid. So, the Fetch Foundation connected the Fire Department with Charleston Animal Society's American Animal Hospital Association (AAHA) accredited Lifesaving team. Along with pet first aid, Dr. Fuller showed the firefighters how each lifesaving item in their Fido bags worked.
"We live in a world where pets are as common as people, so when accidents occur, animals often are just as likely to be victimized as their owners," Dr. Fuller explained. "Acting quickly in an emergency scenario can make the difference between life and death for an animal in need."
Dr. Fuller also taught the firefighters how to look for warning signs of health issues in dogs and cats -- using some incredibly adorable puppy volunteers.
"We respond to emergencies involving distressed or injured animals almost as often as we do those involving people," said Greg Schelest, a firefighter and EMT at the North Charleston Fire Department. "But the difficulty comes when our trucks aren't equipped with what we need to help these animals and our staff must learn in the field instead of through training. Thanks to the Fetch Foundation and Charleston Animal Society, we can be there for cats and dogs when they need our help the most."
With firefighters now equipped and trained to attend to animal emergencies, acting quickly in an emergency scenario can make the difference between life and death for an animal in need. Thanks to the partnership between the Fetch Foundation, Charleston Animal Society and these area firefighters, you can rest a little more easily knowing your pet will be taken care of if ever caught in an emergency.